I am a runner. A long distance runner. I love it, it is one of the top things in my life that brings me closer to my Lord. It's the road, me and my Lord out there for hours on end. In staying that, during my first marathon in 2010, the training, the race and everything else that went in to this journey was nothing but an accomplishment given to me by my Lord. Without him I could not have done it.. Philippians 4:13 got me through that and continues to be my "motto" and will be for the rest of my life. "I can do ALL things through Christ who strengthens me!"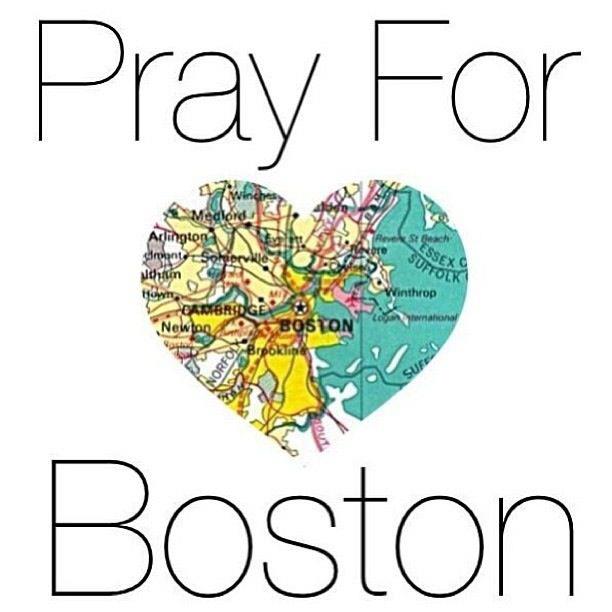 In the light of the attacks near the Boston Marathon finish line, I felt compelled to write out my feelings. And today, you are the lucky reader to get in to my head. I first heard about it on Twitter. Out of curiosity, I popped on Facebook to see what was going on further. Mistake number one…mentally consuming. This attack was too close to me. It was too real to me. I felt connected although I only knew a handful of people who were racing (all of whom are safe, Praise God!). It consumed me…so once again I had to hand it over to my God. If you haven't ran a marathon before, let me tell you a little about how these folks were feeling.
Going through an entire race, which is 26.2 miles takes courage. Takes strength. Takes internal energy. Takes MONTHS of training. Months of commitment. To have someone possibly take that portion of your life away in an act of selfishness, an act of terror is beyond me. I canNOT comprehend what is going through the culprits' minds.
However, out of great struggles comes amazing victories. I hear stories of emergency workers running to the scenes to help. I hear of marathon runners who JUST finished a marathon rushing to give blood at the nearest hospital. And on and on.
The cowards hid behind their actions while amazing Americans ran TOWARDS the danger. They were there to take care of their fellow Americans, strangers to them. That is what good people do. The good always outweighs the bad. The good people were doing what good people do, helping their neighbor.
At this point, all we can do is pray. Pray for the souls and pray for those affected. Pray for those three families who lost people in the tragedy. Pray for the 100+ people who were injured. Pray for those who have been affected by what they have seen. Pray for the innocent little people who were there to watch a family member accomplish a marathon and have witnessed something no little person should see in their life.
God bless you all. God bless everyone who was affected…our prayers are with you!!
—

Shannon is much more than a 7-letter name. Her life consists of three little ladies and an amazing husband of 11+ years. Outside of her blogging life at thesimplemoms.com and itsallpink2me.com, you can find her hovering over anything chocolate and peanut butter then running it off whenever she has a chance. Running fills her cup so she can take care of the family God has blessed her with. She is a wordy, type-A, OCD Momma who loves fashion, running, cute babies and more importantly her family and her God. {Life motto :: Phil 4:13}